This website is maintained by Judy and Gil Nicholls for communicating to friends and family -- mostly with photos of our trips and photos of friends and family and their projects.
Annabelle and Douglas

Gil and Liam

Nathan and the Lobsters
Here it is summer again and once more we are traveling to escape the heat of Texas. On the Summer Solstice we were at the wedding of Josh and Jalynn in Maine. See pictures above! For our first few days here, including a family cookout and the wedding, the weather could not have been more perfect!
Gil at Palo Duro State Park

Jeep at Cottonwood Pass

Photography Workshop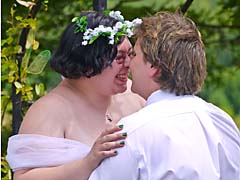 Heather and Lewis
2010 found us escaping the heat of summer in Texas once more. We made three trips: Colorado in June, east from mid July to mid August, then we spent most of October in Colorado, New Mexico and Texas where Judy attended a photography workshop at Big Bend. A few pictures from these trips can be seen on Judy's photography website under New Work.
You can also view a couple of photo books she published at MyPublisher:
In October 2008, Gil and Judy purchased a new motorhome, a Navion IQ. It's a little larger than the Rialta but still gets pretty good gas mileage with its Mercedes diesel engine. This spring, 2010, we purchased a used jeep to pull behind the Navion and to use locally on our bad Texas backroads. We will be heading north in June to escape the hot summers in Texas.
Judy's Nicholls Photo website is for the better photos, as opposed to fun photos, family photos, travelogues arranged in photo galleries by subject. The photo blog, is a place she posts some pictures she particularly likes on a fairly regular basis. That is in addition to her flickr photo stream.
Judy is now a member of the art co-op in Wimberley called Bent Tree Gallery. She regularly displays her photography in the Wimberley Valley Art League's juried shows. In February 2009 she was accepted as an exhibiting member of the New Braunfels Art League. She has made some sales there despite the poor economy. She is also secretary of the San Marcos Art League and developed a website for them. She also developed websites for the Wimberley Valley Art League and the Country Classics shop in Wimberley.
For Gil's pictures, visit his flickr site. Alissa is uploading pictures to flickr.com.
October 2014. The Photo Galleries are no longer available because they were taking up too much space on the server. When I get time I will re-do them in a different kind of gallery that doesn't create so many copies of each image...
Please visit our Photo Gallery. Want to see those old pictures? Pictures of new babies? Travel pictures? More coming all the time. Gil is the scanning person and after the new year will get back to the project of scanning slides and negatives. It is very time-consuming but it's nice to see those things again! A new one in the album section is USSR 1979: Three months in Siberia. This is the Soviet Union under communism and includes Siberia and trips to Bukhara, Samarkand, Armenia, Leningrad (now St. Petersburg again), and Moscow.
Photo Gallery: Maine 2008 with Alissa's wedding and lots of lighthouses and 2008 West with mountains and hot springs and red rocks and steam trains. Gil and Judy's 2007 summer trip away from the Texas heat. First they went east to see Gil's children, then to Illinois lake place for a few weeks, then back to Texas via Colorado and New Mexico. New pictures of Nate and Bruce and their environs, and pictures of Doug visiting Nate and Bruce. Enjoy pictures of us almost being hit by a huge rock on a Colorado road and a train ride through the mountains on a train pulled by an authentic antique steam engine.
Also, under Family Albums are pictures of Bruce from birth to his teens and a selection of baby pictures of Bruce, Douglas, and Nathan. The slide show presentations Mexico 1968 & 1972, National Parks 1965-66, and Summer Vacations 1969 & 1970 are also linked in here.
We are currently immersed in scanning and cataloging old slides and negatives. For those of you with slides, we suggest you take a look at them. We have found that slides fade, change color, and mold. Hence we are trying to get them scanned and onto a computer before further deterioration occurs. Hundreds are now scanned and here's a taste of what is there.
We've named our home in Wimberley Casa Magnolia. For more pictures, visit Casa Magnolia.